Final Fantasy 8 Cast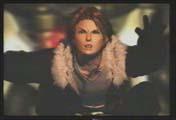 Squall Leonheart
Seed Cadet [Balamb]
Weapon:Gunblde
Limit:Renzokuken
Age:17
Height: 5'9"
DoB: Augest 23
Squall is the main character your either stuck with him or Laguna throughout the whole game. He's great and has a very strong limit breaker.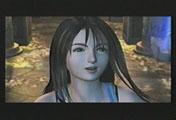 Rinoa Heartily
Timber Owls leader
Weapon:Blaster edge
[A high tech boomerang]
Limit: Combine/ Angel Wing
Age:17
Height:5'3.5"
DoB: March 3
Rinoa is kind of like Squall's girlfriend towards the end. She has THE highest magic stat and very good limit breakers [ such as Invincible Moon].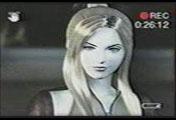 Quistis Trepe
Gardens instructor [Balamb]
Weapon:Chain whip
Limit:Blue magic
Age:18
Height:5'6"
DoB: October 4
Quistis is Squall's instructor [Man I wish I had HER for homeroom instead of my teacher.] She has the most and some the the best limit breakers.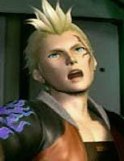 Zell Dincht
Seed Cadet [Balmb]
Weapon:Glove
Limit:Duel
Age:17
Height:5'5"
DoB:March 17
Zell is umm... very energetic I think his favorite word rhymes with his first name. He's got a nice limit breaker that lets you attack multiple times.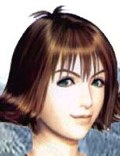 Selphie Tilmit
Seed Cadet [Balamb]
Weapon:Nunchaku
Limit:Slot
Age:17
Height:5'1"
DoB:July 16
Selphie is also very energetic and optimistic. She acts like a four year old though, and sings a train song?! Her limits [Full Cure especcially] are nice.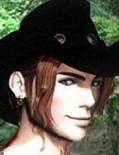 Irvine Kinneas
Seed Cadet [Galbadia]
Weapon: Shotgun
Limit:Shot
Age:17
Height:6'0"
DoB:November 24
Irvine is the western cowboy wannabe of the group. He in my opinion, has the best limit breaker it can score 3 x's the damage of Squall or Zell's.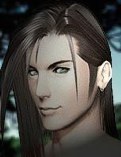 Laguna Loire
Soldier [Galbadia] [Later journalist]
Weapon:Machine Gun
Limit:Desperado
Age:27
Height:5'9"
DoB:January 3
Laguna is the game's second main character he's cool, Selphie thinks he's cute. He has fairly high Hp, Vitality and an okay movie like limit breaker.
Kiros Seagill
Soldier [Golbadia] [Later traveler]
Weapon:Katal
Limit:Blood Pain
Age:23
Height:6'4"
DoB:July 6
Kiros is some cool looking well trained exotic soldier from a far away land. He has great speed and his limit is better than Laguna's or Ward's.
Ward Zabac
Soldier [Galbadia] [Later janitor]
Weapon:Harpoon
Limit:Heavy Anchor
Age:25
Height:7'0"
DoB:February 25
Ward is definantly one word, big. His Strength, Vitality, and Hp is high but his magic sucks, his limit is similar to Laguna's without the flashy graphics.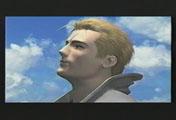 Seipher Almasy
SeeD Trainee [Balamb]
Weapon:Gunblade
Limit:Fire Cross
Age:18
Height:6'2"
DoB: December 22
Seipher is Squall's rival, aactually I think he envies Squall's position ans success so he picks on him. He rates average in just about every stat.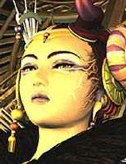 Edea [I won't tell her last name because it spoils a surprise a bit later.]
Sorceress
Weapon:None
Limit:Ice Strike
Age:???
Height:???
Weight:???
DoB:???
Edea is a sorceress;the sorceress is the last boss in the game. She is weak physically and has the lowest Str, no weapon, and very low Vit.
Big thanks to Tec from RPGClassics for the screenshots